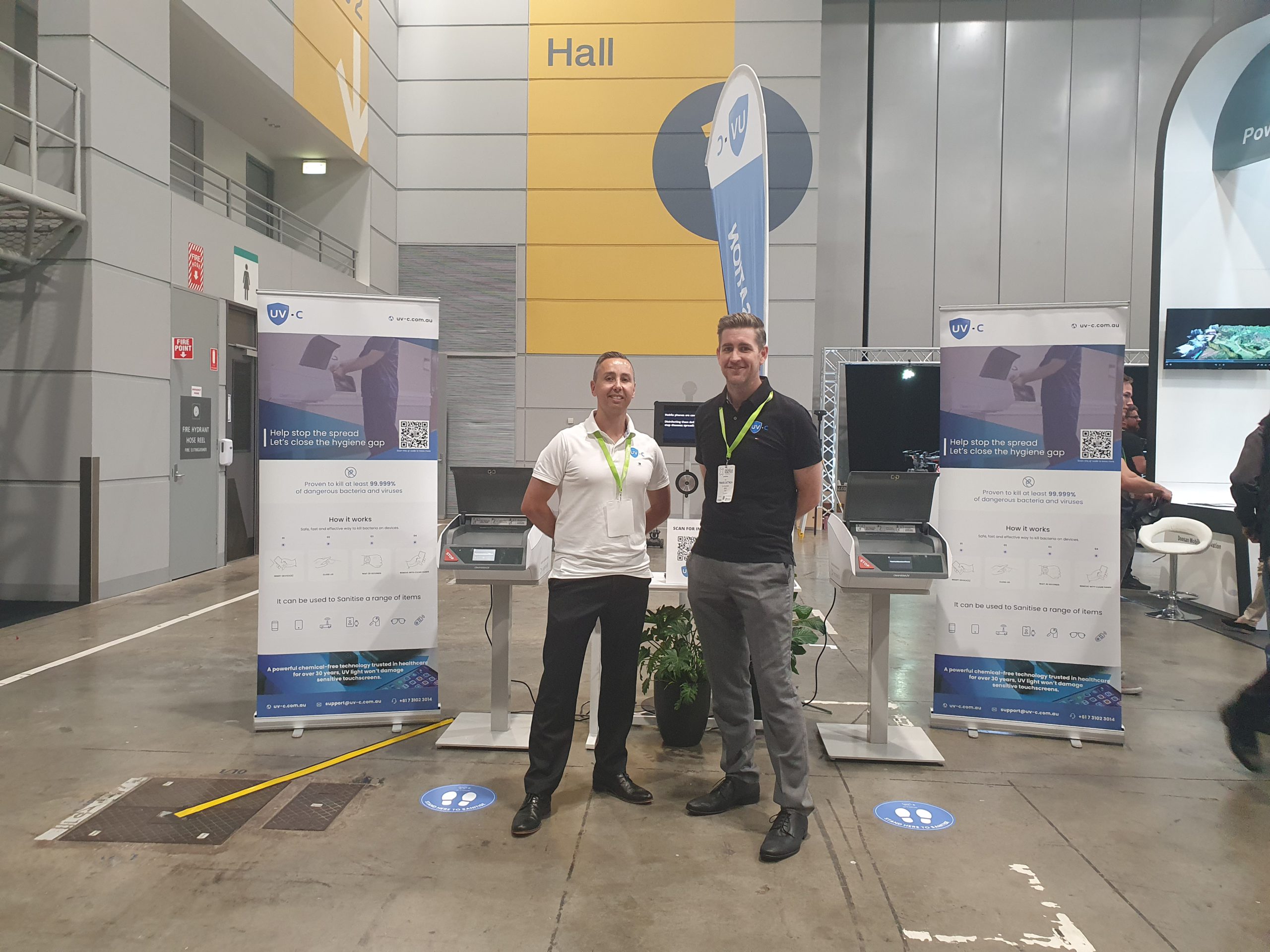 Destroying COVID-19 in Australia at the speed of light 
UV-C  & CleanSlate UV Device Sanitation Kiosks deploying in Australia
FOR IMMEDIATE RELEASE 
Deploying igus linear guides and high-intensity ultraviolet light (UV-C light), the CleanSlate UV system disinfects portable devices in 20 seconds to reduce the risk of hospital-acquired infections (HAIs).  New device sanitation kiosks set to become the norm in Australia.
—- 

When COVID-19 hit the world in early 2020, the race was on to stop the spread of the SARS-CoV-2 virus and eradicate the ongoing pandemic.  
For nearly thirty years, ultraviolet (UV) light has been used as a disinfectant in the medical sector. But as the team at Clean-Slate UV discovered in creating a device to eliminate bacteria on cell phones and other mobile devices, using it as a disinfectant requires extreme care, testing, and precision. 
"The CleanSlate UV Sanitizer can eradicate 99.9998% of Methicillin- resistant Staphylococcus aureus (MRSA) in 20 seconds. The device works on smartphones, tablets, and other portable items, does not require any training to use, and disinfects without harsh, damaging chemicals." says Luke Wadeson, Co-founder of UV-C in Australia. 
"Sanitisation of mobile devices is critical. Studies have found that 94% of mobile phones used by hospital staff bore contaminants. In another report, 89 medical workplace employees were aware devices could be a source of contamination, but only 13 regularly disinfected. And that's in the medical industry alone. Can you imagine how much worse it is in our offices?" 
"More and more, mobile devices are being used in business and customer care," says Wadeson. "for example, we now use mobile technology devices for things like payments, sign-ins, voucher scanning, and to access information on the web. These devices have been proven to become contaminated with germs over time and certainly pose a risk for increasing the spread of contagions. We do not want these devices to become a source of infection for visitors and staff, and our products fill the hygiene gap that currently exists." 
"But at the same time, these items are extremely sensitive to many sanitisation solutions and even these often require proper training on how to properly use," says Wadeson. 
The use of UV light against COVID-19 in Australia, however, requires extreme care. Prolonged exposure can impact the skin, eyes, and the immune system. The CleanSlate UV team researched to identify pathogens most commonly found in healthcare facilities causing healthcare-acquired infections (HAIs). The device deactivates bacteria and spores and keeps users safe from harmful UV rays. 
"We have taken every possible use into consideration to ensure the personnel is not exposed to [short wavelength ultraviolet (UV-C) light] under normal use and maintenance," says Manju Anand, CTO, CleanSlate UV.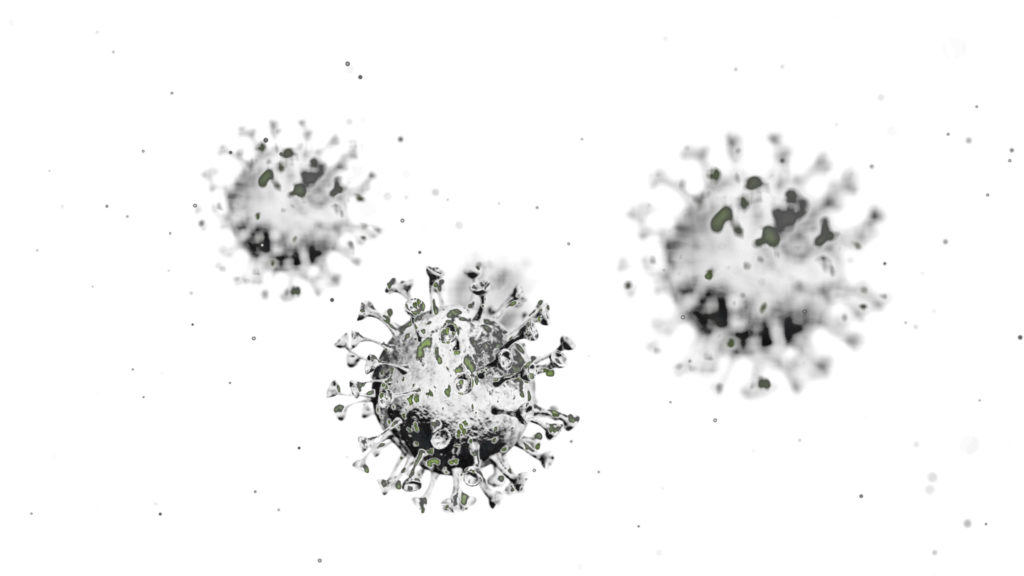 Safe use of UV light against COVID-19 in Australia 
In CleanSlate's early stages, the team conducted research within the hospital network and through publications. 
"With the help of research publications, we identified the minimum required dosage to achieve the desired kill rates for the selected pathogens. The hardest one was Clostridioides difficile (also commonly known as C.diff)," Anand says. CleanSlate developed a UV test chamber to adjust light source, intensity, material, the finish of the chamber, and duration of exposure. 
"Using a radiometer, we measured the intensity and uniformity of UV light throughout the chamber," Anand says. "Tests finalized the best combination of the UV source, custom coatings for the chamber surface, and the size of the chamber." 
The UV test chamber was sent to a third-party to conduct efficacy testing according to ASTM E1153 standards. Tests were conducted at several exposures to measure UV-C dosage (intensity x duration). 
"We conducted extensive research on devices that require frequent sanitization, which defines our chamber size and duration of sanitization in healthcare settings without disrupting the workflow," Anand says. "With the help of an industrial design firm, we finalized the UI/UX and look of the product so that it integrates well into healthcare facilities without disrupting the workflow, looks like modern medical devices, and is easy and intuitive to use without any training." 
Teams designing the chamber faced multiple challenges in maintaining proper UV exposure. They used a thermal simulation tool to optimize the chamber design to enhance internal airflow. Sensing technology was integrated to constantly monitor temperature and if it reaches beyond set limits, a warning signal alerts the user and the device goes into service mode to prevent use. 
The result is that UV-C Sanitisation Kiosks are set to become the norm in building COVIDsafe protocols.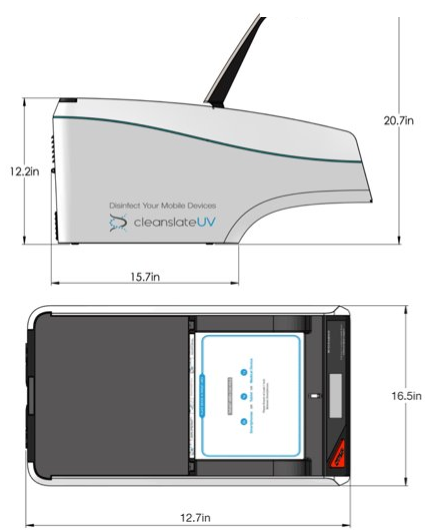 UV Chamber technology 
A critical component of the product is a lubrication- and maintenance-free sliding chamber. The linear guide is made by igus, a Germany-based manufacturer of motion plastics products with American operations in Providence, Rhode Island. The Drylin W guides slide, instead of roll, and are cost-effective and highly flexible. Guides are resistant to dirt and dust due to dry operation, and are typically used in medical equipment and devices, packaging machines, furniture, and robotics. 
"During the initial R&D stage, we discovered that the UV lights must be on and warm for effective sanitization in 20 seconds," says Kevin Wright, igus sales manager, Canada. "Since the UV light is dangerous to human skin and eye, we had to design a moving chamber that transports the device into the UV chamber when the sanitization was initiated by the user." 
Anand says the company tried steel bearings, but they fell far short of their expected service life and required lubricants, which could not be used in a healthcare facility. "Reliability was utmost, as any downtime due to CleanSlate device breakdown would result in the ineffective sanitization of mobile devices using chemical wipes, which could damage or degrade the electronic devices used in hospitals," Anand adds. 
How the UV-C CleanSlate UV unit works 
The user deposits the device into the movable chamber that, once the lid is closed, transports it into a UV chamber for cleaning in 20 seconds. Once completed, the lid automatically opens and the device can be removed with clean hands. The unit sanitizes multiple items at once and uses radio-frequency identification (RFID)-enabled tracking and compliance auditing. The UV-C light does not dry out or degrade materials. 
The system uses UV-C light, which destroys nucleic acids and breaks apart germ DNA, preventing them from being able to function or reproduce. The light does not physically remove the cell, but damages the nucleic acid of microorganisms, preventing the DNA from being unzipped for replication. When it tries to replicate, the organism dies. All completed, at the speed of light. 
CleanSlate UV
https://cleanslateuv.com 
igus
https://www.igus.com 
Available now in Australia by UV-C
https://uv-c.com.au/ 
Imported by Device
https://www.device.com.au/our-brands/Cleanslate-UV  
Device Technologies is proud to partner with CleanSlate UV and UV-C, to bring their high-quality solutions to healthcare & industrial design professionals in the Australian and New Zealand market. 
About the author: Luke Wadeson is the Co-founder for UV-C proud provider of CleanSlate UV in Australia, and can be reached at workplacesafety@uv-c.com.au